Join the Purpose Compass Village
Can You Reach Your Customers In an Authentic Way That Gets Results?
Growing up as a kid in nature, I always found myself with a story in mind and a stick in hand… Once we were orphans, trained in the arts of the ninja, and we were the world's last hope of defense against an evil alien invasion of robots…
Over the years I've seen the power of stories to touch people's hearts and open their eyes. I've watched stories change cultures within a business or bring an idea into reality. At every difference made, there is a story that made it possible.
But don't take my word for it — look to any native culture, religion, or the last time someone inspired you… and you'll find a story.
Making a difference as a business is no different
With the right stories you can reach your audience in a way the both feels authentic and gets the results you need. Sign up below to receive my gift, The Power of Stories, and you'll find out how.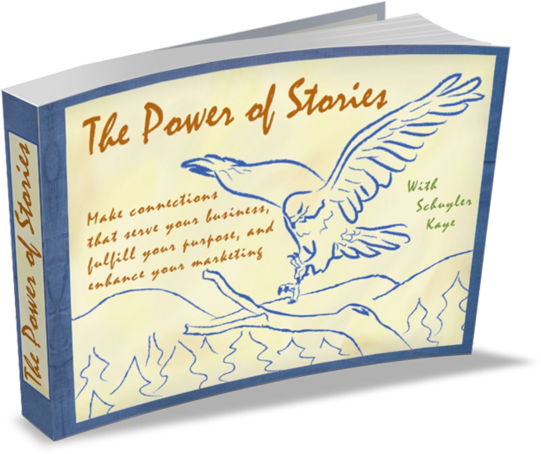 What you're getting with the Power of Stories eBook
The three stories that establish a connection to the people that visit your website and inspire them to become customers
The processes for teasing out the stories in your heart and sharing them in a way that is meaningful to your customers
The truth about how personal stories can communicate your message while building trust and establishing a relationship with your customers
The subscription to the Purpose Compass eLetter where you'll see storytelling in action as I share helpful information to grow your business
"Schuyler is masterful at weaving the authentic and transformational power of stories into marketing. He brings a fresh and inspirational approach in The Power of Stories with straightforward exercises to show you how to use 'your story' to bring heart to your marketing and purpose to your work." Yollana Shore, Coach and Teacher at Heart of Business
Why am I giving this away?
Storytelling has been a core part of the success in my life and my business. So when I sat down to think about what I would want to give people who signed up for the Purpose Compass eLetter … "The Power of Stories" was the obvious choice.
That and every storyteller needs an audience!
Get the Power of Stories eBook today by signing up below, and know that I will never share, sell, or tell your information to anyone.
"The Power of Stories" Serve Your Business & Enhance Your Marketing with This Free Workbook & eLetter

Client Testimonials
~ Lin Shlonsky, Owner of New York Hypnotherapy and Meditation

"This course exceeded my expectations. I thought I would just end up with a story on my "about me" page, and ended up with a whole new clarity about my purpose and the clients I wanted to work with. It has already made a big difference for my business. Just going through the course exercises made it easier for me to talk to my clients even before I had finished my story. It really came together for me in the last class. Putting all the pieces together to create a story that helps me better identify with my ideal client – just two days after I changed my website copy I got a call from a customer who is a perfect fit. I appreciate Schuyler's ability to create a safe environment for me to remember my past and overcome any resistance I had. It really touched so many parts of my life helping me grow personally as well as professionally."
"The Power of Stories"

Serve Your Business & Enhance Your Marketing with This Free Workbook & eLetter