Purpose Compass
Tell Your Story. Own Your Brand. Live Your Purpose.
Should your Personal Brand and your Identity be the same?
How many posts have you read that talk about the importance of having an AUTHENTIC brand? (I read 3 just today)… It makes sense right?
It is also widely accepted that your personal brand IS your reputation. Which leads us to consider our audience when we shape our personal brand. So the balancing act between tailoring our brand to suit our audience and maintaining authenticity with who we are begins.
Hold on to that thought for a moment while I set the stage. I recently attended a talk based on a principle from 30 Lessons for Living: Tried and True Advice from the Wisest Americans. (Great book by the way – it compiles THOUSANDS of elderly people's advice on living a fulfilled life.)
This particular topic was on our IDENTITY. The claim was that most of us base our identity on these three things:
I am what I do – What you do is definitely part of your personal brand story.
I am what I control – Branding yourself is an attempt to control how others view you.
I am what others say I am – Wow! Sounds a lot like reputation to me…
Here's a little story about a man.
He Failed in business.
A year later he was Defeated for State Legislature.
The next year he had his second Failure in business.
Three years later he Suffered nervous breakdown.
Two years after that he was Defeated for Speaker.
Again, two years later he was Defeated for Elector.
His luck changed three years later when he was Elected for Congress.
Back on track he was Defeated for Congress three years after that.
And again he was Defeated for Senate seven years later.
A year after he was Defeated for Vice President.
And two years later… yep you guessed it… Defeated for Senate.
I'll give the guy his due credit… He was PERSISTENT. Regardless, it is a great example of a personal branding FAIL. Put yourself in this guys shoes for just a moment…
How are you feeling about yourself? I mean what you do is… get defeated at every turn. You display an inability to control anything that matters year after year. And let's face it…you're not going to win a popularity contest anytime soon.
His personal brand is shot, right? And his identity…well it's a wonder he didn't have more nervous breakdowns.
At what point do you give up?
Well in 1860 he was Elected President of the United States.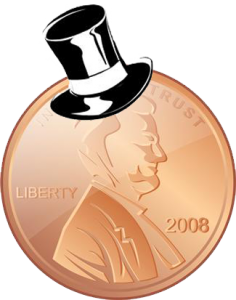 That's right. You might find him wearing a top hat on that copper penny in your pocket… He's Abraham Lincoln, arguably the most significant president this country has ever had.
Just take a moment to consider how different our country would be if this man HAD based his identity on what people thought of him.
For One – He would NEVER have made it to the presidency in the first place… by failure number two he'd have changed careers.
Two – Assuming he did make president, you might recall he was the MOST HATED president during his time in office in the HISTORY of the United States. Ask yourself, would a man who based his identity on what others thought be able to make the hardest decisions the United States has ever had to make?
So what the heck does this have to do with YOUR personal brand and YOUR identity?
The trouble with basing your identity on what you do, what you control, or what others say about you is – what happens when…
… You're defeated, fired or you have a terrible boss?
… Things break the mold of what you think you control?
… Someone or everyone doesn't seem to like you?
According to the wisdom of the elderly… and I'm inclined to believe them… it leads to a less authentic and thus less fulfilled life.
But wait. Isn't your personal brand your reputation?
I think the people with enough experiences to have a vote in the matter would say, "Don't forget what it truly is that makes you tick." Base your identity on that story, and USE your personal brand as a tool to pave the way to your dreams.
If you enjoyed this post, share it with your friends:
Who Wins Your Non-Celebrity Death Match of Your Personal Brand VS Your Identity? ow.ly/cM4HF

— Schuyler Kaye (@T4Execs) August 6, 2012
Check out Superhero Branding for Ordinary People for steps on how to apply that very concept.
Who wins in your Personal Brand VS Identity Death Match?
Have you experienced any of these during your business adventures?
I've been hearing these four frustrations a lot lately:
You feel like your brand, your niche, or even what you do just doesn't fit right. It's fine, but you want your business to be comfortable, look great, and allow you to grow.
Marketing your business just doesn't work like it should or like it does for other people.
You hustle your ass off to attract new customers, but there's no way to sustain it long term.
There's so much crap on your plate right now, and you don't know what the next step should be. Pure overwhelm!
If any of these has you nodding your head, then take advantage of my thirty day challenge where I'm going to help 30 people for free, but only until July 10th.

It's pretty simple, once you sign up we'll just hop on the phone/skype for 23 minutes and brainstorm some solutions to your situation.
Sign up here and for a time that works for you.
Sometimes all it takes is another person to bounce ideas off of, don't let this opportunity go to waste.
"The Power of Stories" Serve Your Business & Enhance Your Marketing with This Free Workbook & eLetter

Client Testimonials
~ Jill Michalsky, Co-Founder of the LatticeWorks Dance Collective

"If I'm completely honest, when we first started working together I wasn't fully sure of my mission or my ability to make it happen. The work we did on my story helped me find deeper meaning in my passion for dance and my role in bringing it to the world. When things did come up you had a way to troubleshoot my problems… always asking questions I hadn't asked myself and then helping me work through those to get clearer on what was truly important. After our sessions I always felt 100% better! I appreciate how you were able to draw on my dance expertise… you didn't know my industry, but you were still able to help me communicate all this through my online presence in a way that had people responding. The whole experience was very professional and a supportive environment. I never felt awkward about reaching out between sessions for help or feedback. Your responses felt generous and thoughtful. I will always appreciate the time and energy you spent working with me, and will continue to use the tools you taught me to more forward with my dance company!"
"The Power of Stories"

Serve Your Business & Enhance Your Marketing with This Free Workbook & eLetter