Purpose Compass
Tell Your Story. Own Your Brand. Live Your Purpose.
Browsing all articles in Purpose Compass
You've heard the story so many times, their message is clear. "If you want your business to succeed you better be willing to hustle." You get it. You aren't afraid of hard work. Yet the more your business grows – the heavier the challenges get.
You want to make an impact that is bigger than just you. You know you can't do it on your own. Yet despite how connected we all are in this digital world, the walls of making real connections can seem so much greater than if you could… well hangout.
My friend Mike Hrostoski has a story and some advice about how to make those connections that inspire, sustain, and empower you to make a contribution to the world that's bigger than you could on your own. Just so you know, it is because of taking these steps that we are friends today.
Actions for you to implement:
Step 1: Be succinct with your ask.
Step 2: Get out of your house/office.
Step 3: Share what makes you human.
Want more from Mike?
Two ways:
1. He's offering a free online event where he'll be revealing the exact mindsets, tools, and frameworks that he uses with his clients who pay him $500 a hour to support them in their relationships and businesses.
2. Attend his conference for men on April 25-27 where you can spend the weekend with some of the world's most sought after experts in relationships, sex, friendships, and life.
Bio: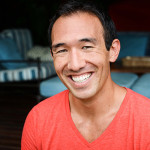 Mike Hrostoski, The Men's Coach, helps high performing men master their relationships with their women and their work. And he's on a mission to make the world a better place one man at a time.
After the sudden passing of his mother, Mike left a lucrative career in human resources and took a full year off to do things that filled him with joy. After spending 2012 doing hundreds of hours of pro-bono coaching and traveling 12,000 miles across the United States doing volunteer work on a summer volunteer road trip, he launched his coaching business and operates it from all over the world. He's been a digital nomad since February 2012 and has spent the past two years traveling and working across three continents, over a dozen countries and dozens of cities.
How do you make the connections that matter in your business?
Let us know in the comments below!
I mean it's not to say that your brand is boring, but wouldn't it be nice if people were talking about your brand with their friends and family… if you didn't have to do all the work to spread the word?
Sometimes, all a brand needs is a little pizzaz to give it wings.
It's my pleasure to introduce Kimberly Bordonaro and her Party Rock mentality. She has a fun, vibrant take on branding your business that will help you go from waiting for customers to your customer waiting in line to work with you.
Actions for you to implement:
Step 1: What kind of party are you throwing?
Step 2: Who's on your guest list?
Step 3: What's the mood or tone of your brand?
Step 4: What can you do to make your offers more interesting?
Step 5: What kind of swag or parting gifts will your brand have?
Want more from Kimberly?
Kimberly is launching a new website review service for consultants, coaches, and bloggers that need candid insights into why their websites are not converting traffic, and specific steps they can take to increase conversions, add personality, and improve their brand's online experience. Check it out by clicking on her banner below.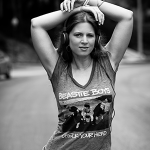 Bio:
Kimberly Bordonaro is the founder of Brandspiration, a brand consulting firm that helps entrepreneurs harmonize customers, credibility, and cash through distinctive positioning strategies. Known for delivering astute branding advice through lyrical metaphors, she blogs at http://www.kimberlybordonaro.com – a site that has been praised for its addictively fun content by many experts in the marketing industry.
There are some decisions you'll make for your business that can easily be changed… like going to energy saving light bulbs for example… you unscrew the old, screw in the new, and you're done.
Changing the name of your business on the other hand is a decision that can cause a great deal of stress and rework… your website, links, materials, products, and you'll even lose customers in the transition.
Having gone through this process before, I'm hoping my story and its tips can help you find a name for your business that represents what's in your heart and attracts the customers you want to serve.
Actions for you to implement:
Step 1: Get clear on the "why" of your business. Some of you have known this since you could walk, while for many, it can be an elusive question.
The example I gave to get you started was to ask yourself, "Are there underlying questions in your life that you strive to answer? Is your business yet another opportunity to answer those questions?
My Example: Wow, I remember conversation after conversation with my friends… usually late nights pondering what I'm meant to do. I have changed my mind so many times and spent so much time trying to be what other people wanted, but I want to find MY purpose. And YES, I created my business because I was tired of trying to fulfill my purpose during off hours.
Step 2: Think of a word that captures the essence of your "why."
My Example: This idea of fulfilling a purpose keeps coming up. I think the word "purpose" really captures my mission in business… and life!
Step 3: Brainstorm word combinations with your friends, family, and even strangers at a café.
My Example:
Purpose Star
Practice Purpose
Purpose Project
Purpose Pays
Purpose Compass
Pay Your Purpose
Trailing Purpose 
Purpose Up
You get the idea…
Step 4: Take a few minutes each day to look over your list. Eliminate the phrases that don't resonate over time… Which ones draw your heart in?
Want learn a process that will help you become clear on your "why"?
The key to becoming clear and confident in your "why" comes from understanding and appreciating the journey that has gotten you where you are today… your story.
Beginning next week I'll be offering a three-part learning series absolutely free specifically put together to help you discover your story and tell it in a way that will attract more customers.
Sign up for this No-Cost Learning Series called Finding Your Compass.
You just finished your blog post and now you're scouring the web looking for places to share it… LinkedIn groups, Facebook groups, Twitter, or other online forums. Fast as you can, you post it anywhere you think your customers will see it.
The next day, you pull up your Google analytics page to see how many people read your post. You're completely disappointed! Maybe you were expecting more click-throughs and comments, or had hoped for a lower bounce rate.
That's all about to change. Hear how my friend and colleague, Sue Kearney, is able to use gratitude and generosity to make the authentic connections that lead to more interaction and engagement from your target audience.
Actions for you to implement:
Step 1: Find a place (group, forum, page…) where you'd like to share your blog post.
Step 2: Find 3 opportunities to support someone in that place.
Step 3: Share your post and enjoy more authentic connections.
Want more from Sue?
If you're looking for support for your social media marketing strategy and implementation, would like to know that you're following and interacting with the right people for your business, or just craving a way to integrate your passion and purpose in every social media conversation, then you can take advantage of Sue's free Unmask Your Brand discernment call.
Bio:
Sue Kearney is Chief Inspiration Officer at Magnolias West, a branding and web design practice. She coaches women in business who want to integrate their most sacred heart's mission and soul's purpose in every area of their business. Connect with Sue and join the conversation on her blog, subscribe to her newsletter full of business practices and tips, both spiritual and practical, and connect with her on Twitter, Facebook and Pinterest.
You've just finished putting your heart and soul into working with a client, and the results have been amazing. You might even say he or she was the poster client for your business.
You decide this situation would make the best testimonial for potential customers who are on the fence. Only the thought of asking your customer for it makes you uneasy.
You work up the courage, you ask, and you get something… but it's not all you had imagined. Let my colleague Jules Taggart tell you a story about how to ask so that you receive a testimonial that will knock your socks off… and more importantly move your fence-ridding customers over to your greener pastures.
Actions for you to implement:
Step 1: Decide which of your customers you'd like to write you a testimonial.
Step 2: Let your customer know you appreciate his or her work.
Step 3: Be specific about what you'd like your customer to say by recapping the amazing results your customer is experiencing while working with you.
Want more from Jules?
Jules is offering her Launch Blueprint for free. It's a step-by-step checklist to get you through your next product or service launch (and actually get some sleep during launch week). Check it out by visiting http://ampandpivot.com/launch/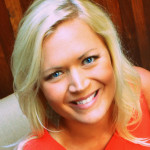 Bio:
Jules Taggart is an advocate for disruptive branding. As the founder of amp&pivot, she shows entrepreneurs how to say goodbye to boring marketing and tell a more meaningful story to their customers. When she's not working with clients, Jules can be found hanging out any place that cupcakes and dirty martinis are sold!
You've heard the advice before that you should be blogging if you want to grow your business? You've probably heard you should be doing it weekly at an absolute minimum…
Yet no matter how hard you try, you struggle to create that much content, that often.
My good friend Peter Sterlacci, who I'll add inspired Couch Confessionals with the story he's about to share in this video, is a ninja at creating online collaboration events. If you're looking to build your following without the pressure of creating a ton of content you'll want to pay attention to this.
Actions for you to implement:
Step 1: Choose your topic or theme.
Step 2: Decide how many people you want to have in your blogathon.
Step 3: Send the invitations.
Want more from Peter?
Peter has very graciously offered to advise anyone who wants help with the logistics of doing one of these blogathons. If you're interested, just write up the questions you have and shoot him an email at peter@petersterlacci.com.
Bio:
As Japan's first Reach-Certified Master Personal Branding Strategist, Peter Sterlacci is the pioneer of personal branding in Japan. His personal mission is to pioneer a 'cultural shift one personal brand at a time' by helping Japanese to stand-out in a global environment to be remarkable, not invisible!
Your tagline should literally be less than one sentence… I mean in many cases it's only a phrase. So, why is it so difficult to find the right one?
You've heard your whole life how important first impressions are, and your tagline is usually one of the first things your customers are going to see. Well… there's the pressure.
If you're looking for ideas on how to strengthen your first impression, you're going to enjoy Audrey Seymour's story about how weaving her purpose into her tagline got amazing results.
Actions for you to implement:
Step 1: Take some time to brainstorm, meditate on, or journal on the following questions.
Who do I care the most about serving?
Step 2: Try different ways of incorporating your answers into your tagline.
Want more from Audrey?
If you're hearing the call to life work that honors your highest purpose, but feel frustrated by doubts and confusion about what is uniquely yours to do and who you are meant to serve, then you're in luck.
Audrey and Tom Rausch will offer a 75-minute no-fee webinar, on September 10, discussing the topic of how you choose the right path among the all the worthy needs and possibilities that you see, one that will bring you fulfillment and a great living at the same time.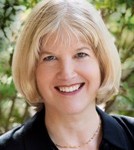 Bio:
Audrey Seymour MA MCC is Founder and Principal of the Clear Change Group (www.clearchangegroup.com), a coaching and consulting collective that works internationally to help mission-based businesses and leaders gain greater clarity, efficiency and impact in the world.
You know those times when you think of a great idea only to forget it when you need it most? Then you waste even more time kicking yourself for not writing it down immediately or if you did… losing the note it was written on.
Or what about the millions of times you've seen cool ways of marketing a product, getting people to like a Facebook page, or a welcome email to a newsletter that … well made you feel welcomed. You think, "I'll have to remember that…" but you don't.
The problem is that even if you could capture these ideas, what happens when you don't end up using them for years. They don't magically appear when you need them do they? No, they get lost, forgotten, and swallowed by some black hole.
At least until now…
My friend and colleague, Ari Meisel is an expert at making technology work for you, so you can do less work. Hear his story about how finding an external brain has kept his greatest ideas flowing.
Actions for you to implement:
Step 1: Download and install Evernote on all of your computers and mobile devices.
Step 2: If have an idea in your head, you need to record it as quickly as possible. Evernote can capture anything from text to urls to videos to photos. You don't need to know if it's relevant or if it will ever be relevant just clear out your head.
Step 3: Install the Evernote web clipper for your browser. Any time you see an interesting video or blog post, you "clip" it. Then in the future any time you clip something you will be shown relevant notes from your Evernote. Suddenly, the thing you saved a year ago becomes relevant today.
Want more from Ari?
Ari, being the king of productivity has created an online course to teach people how to use tools and outsourcing to "Get More Done – Make Life Easier"
If you have trouble managing emails, getting tasks done, managing your time, making time for personal activities, or having the ability to travel, then you'll want to check out his course.
Bio:
In 2006, Ari was diagnosed with Crohn's disease an incurable inflammatory disease of the digestive tract. Despite the severe case he managed to overcome it through a combination of yoga, nutrition, natural supplements and rigorous exercise (Ironman and Crossfit). He fought back the symptoms of Crohn's until he was finally declared free of all traces of the 'incurable' disease. Through the process of data collection, self-tracking and analysis, he developed Less Doing. This was a way of dealing with the daily stresses of life by optimizing, automating, and outsourcing all tasks in life and business.
Is anyone listening to your social media updates?
You don't have all day to be on social media… you have a business to run. Yet, you know that in order for you to reach your customers it's a necessary evil… okay maybe evil's a little dramatic.
But when you spend an hour crafting your social media updates, and who knows how much time sending them out into the world… only to find out not a single person clicked through on your link …
… it can feel like a kick to your shins.
How to avoid bruised shins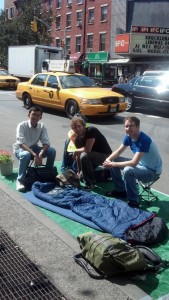 My eight and a half pound dog lay panting on the artificial grass while cars, taxis, and bicyclists zoomed by. I was next to him chillin' with some cool shades on one of New York City's busiest streets.
It was PARK(ing) day; a global event where people (and dogs) of all kinds temporarily transform metered parking spaces into mini parks to draw attention to the need for more urban open space.
What started out with one lot quickly became an annual global event… why? Because it's awesome! Just kidding… that's only part of it. By bringing their message into the path of people driving to their destination, they were able to connect with the everyday lives of those people.
If you want your social media updates to effectively reach your audience, you have to bring your message to where they are.
Park your social media updates in your customer's path
Say Heidi's a running coach and her potential customer, we'll call him Flash, wants to run the NYC marathon. Great! But what if he's not in that kind of shape? What if he can barely run a mile?
Heidi wants to help people like Flash, so she posts a tweet, "I can teach you to run a marathon in 12 weeks."
Flash is thinking, "A marathon's a long way away at this point…" She might as well be posting a sign that says "Destination marathon… not in your lifetime." Chances are he's not going to click through.
Instead of posting signs that say "destination never," it might be time to start using social media updates as mile markers for your customers…the signs along the road they need to help them on their way.
Heidi knows that new runners frequently experience shin splints.
(If you haven't had them… they suck and they're painful as hell.)
As Flash begins to train… what do you know, he ends up with shin splints. The idea of a marathon is slipping from his mind. He just wants to be able to run a couple miles without being in pain for days afterwards.
Mile marker #1 might be a tweet from Heidi that says, "Are you experiencing injuries while training for your marathon?" Well, now Heidi's got his attention! And chances are, he's going to click through
If you want your audience to receive your message, use your social media updates as mile markers for your customers. You can do that by simply witnessing where they're at and linking them to help that can move them a little farther down the road they want to be on.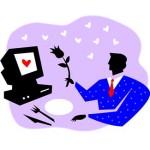 You know that pure ecstasy that fills your veins after a great first date? Remembering the easy conversation, the sound of your date's laugh after your dumb jokes, and the lingering kiss goodnight.
Only to come crashing back down to reality … and the taste of disappointment when that second date never happens?
I played this scene over and over again my freshmen year of college until my buddy sat me down for an intervention. We watched the movie "Swingers" about a guy, Mikey, who is trying to figure out how to play the dating game…
…and so I began rewriting my script.
Lessons for Dating Applied to Your Customer
If we assume date number one is your customer visiting your home page, then here are three lessons from Mikey's friends that will maximize your chances of a second date with your customer:
Lesson 1: Listen to your date: "I just stare at their mouth and crinkle my brow and somehow I turn out to be the big cutie."
What's currently on your home page? Is it your solution? Your services? Your products? Is it 21 questions? Your customer wants to feel understood… he wants to know that you understand his story…
Yet most home pages are filled with descriptions of products or services. That's like a date that spends the whole evening talking about her.
Or sometimes they are littered with questions hoping to engage. That feels like your date is grilling you.
Until he knows you understand his problem, your customer isn't going to care about you or your solution.
Lesson 2: Be genuine and give your attention:  "What they respect is honesty. You see how they dress when they go out? They want to be noticed. You're just showing them that it's working."
People like attention as long as your intentions are honest. Your customer needs to know that you actually care about her. She wants to be reassured that you understand her struggle and that it doesn't have to be this way forever.
If you're offering a solution, then isn't that reassurance in itself?
Not necessarily, this is only your first date… she's still not sure she can trust your intentions. For all she knows you could just be trying to get into her pants.
Showing empathy for your customer's struggle reassures her that you care more about her than making a sale.
Lesson 3: Give your customer space: "…if you call too soon you might scare off a nice baby who's ready to party."
Your customer wants you to be responsive, but he also needs space to decide for himself if he wants to take this relationship to the next level.
A typical mistake you see home pages across the net make, is to ask for too much on a first date. You're not trying to sell them on a committed relationship… you just want to make it to date number two!
In order to do that you need a call to action that is appropriate for a first date.
By asking for less you reduce your chances of scaring him off and increase the possibility of establishing a lasting relationship.
Take Your Customer Out for Coffee at the Home Page Café
Date number two takes place after your customer gives you his email and his intention to get to know you better. Here are four steps to turn your home page into a welcoming café.
Step 1: Your customer's story begins with his problem
Get your customer's attention by showing you understand the problem she's facing.
Example: You want to make a difference in the world… You're not willing to waste a third of your life so you can make a difference on the side… And so you find yourself in business to make a difference in the world.
It makes perfect sense, you can make the impact you want – how and when you want to make it… Only your customers aren't knocking at your door just because you have the perfect solution.
Step 2: Empathize with your customer's struggle
By witnessing how your customer feels you are establishing trust that you care more about him than making a sale.
Example: The endless hours you spend trying to reach your customers online… convince them that you're better than your competition… or that they should even listen to you in the first place… has left you exhausted and overwhelmed.
It probably feels like you've lost sight of your original intention… Feeling the constant pressure of making a profit, you're working with anyone who is willing to pay you … and so you go to bed dreading the thought of doing it again tomorrow.
Step 3: Reassure your customer that a solution exists
You've been through a struggle similar to your customer and you've found a solution. Have confidence in your reassurance and provide the hope she needs.
Example: It doesn't have to be that way. There is a way to both make a difference and attract more clients. And to be honest, you can do this without burning out…
Step 4: Give an appropriate call to action
Give your customer two options. One is an opportunity give you his email in exchange for something that begins the relationship (free gift, newsletter, etc.) AND another where he can find out more information to determine if you're the right date for him.
Example: Click Here if you're ready to sign up for the Purpose Compass newsletter, which shares FREE tips on how to Tell Your Story, Own Your Brand, and Live Your Purpose.
Or if you're still unsure that it's right for you Click Here to find out more about the small business owners that I work with.
Don't scare off you customers by trying to get in their pants on the first date… Instead use your home page to witness their story, and you'll be well on your way to getting their email and that second date.

Client Testimonials
~ Jill Michalsky, Co-Founder of the LatticeWorks Dance Collective

"If I'm completely honest, when we first started working together I wasn't fully sure of my mission or my ability to make it happen. The work we did on my story helped me find deeper meaning in my passion for dance and my role in bringing it to the world. When things did come up you had a way to troubleshoot my problems… always asking questions I hadn't asked myself and then helping me work through those to get clearer on what was truly important. After our sessions I always felt 100% better! I appreciate how you were able to draw on my dance expertise… you didn't know my industry, but you were still able to help me communicate all this through my online presence in a way that had people responding. The whole experience was very professional and a supportive environment. I never felt awkward about reaching out between sessions for help or feedback. Your responses felt generous and thoughtful. I will always appreciate the time and energy you spent working with me, and will continue to use the tools you taught me to more forward with my dance company!"
"The Power of Stories"

Serve Your Business & Enhance Your Marketing with This Free Workbook & eLetter